What Causes Ice Dams in Gutters?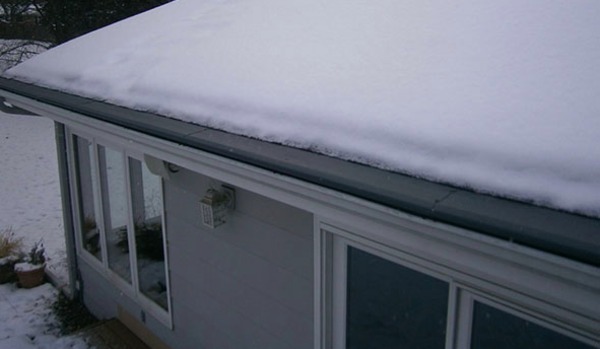 An icy pond, an icy waterfall: sometimes ice is nice, but if that pond or waterfall is in your gutter system, that is not nice at all. If you find that ice dams are clogging up your gutters and causing roof damage, what can you do to both get rid of them or prevent them in the first place?
What Is an Ice Dam?
The University of Minnesota Extension Service describes an ice dam as "a ridge of ice that forms at the edge of a roof and prevents melting snow (water) from draining off the roof."  Just like a dam used for electricity or as a water source, this tiny dam traps water behind it, and this can have serious consequences for your roof. While your gutters are designed to send water from your roof to the ground, the ice dam keeps the water at the edge of the roof, leading to leaks and rot. An accumulation of ice can also damage your gutters.
Why do ice dams form? Even if you have good insulation, your roof gets a little warmer than the surrounding environment. There is a loss of heat from the house, and warm air also escapes from the house. Even leaky chimneys and other structures such as a leaky bathroom skylight can be a source of heat. This means that when snow falls onto your roof or ice forms on your roof, it can become water and slide along the roof, leading to problems.
Getting Rid of Ice Dams
If you have ice dams, how do you get rid of them? In the short term, if you have an ice dam, you can get rid of it by removing snow from your roof. Unfortunately, doing this too vigorously or with an incorrect tool can also damage the roof, so you need to be careful to use a roof rake or broom and to remove the snow gently, without moving the shingles around or dislodging them by banging or shoveling on the roof.
On a day that is not extremely cold, you can also move water from behind the ice dam by making a hole in the dam, allowing the water to flow off the roof. This is not a long term solution, though, and a better option is to really address the problems that are causing the ice dam in the first place.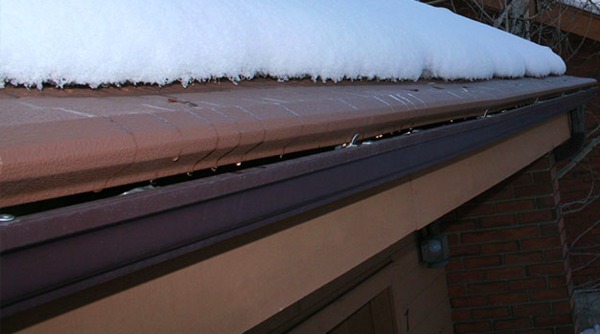 Preventing Ice Dams
Since roof heat leads to ice dams, one strategy to prevent ice dams is to reduce sources of roof heating. This might mean adding more insulation, fixing problematic chimneys or skylights, and looking and addressing sources of escaping air. According to This Old House, this can involve "increasing ventilation, adding insulation, and sealing off every possible air leak that might warm the underside of the roof."
However, even homes that have a warm roof can avoid ice dams by adding gutter guards and gutter heating systems. Gutter guards prevent leaves and other debris from clogging up the gutter and leading to water and ice backups in the gutter. Gutter heating systems keep the water in your gutters warm. Instead of having problems with ice forming in the cold gutters in the wintertime, the ice never forms because the gutter heating system keeps the gutter warm, sending the water down the downspout instead.
Are you ready to improve your home this year? Talk to us at Harry Helmet. We're the gutter experts, specializing in seamless gutters, gutter guards, and gutter heating systems.  Contact us today to schedule a free estimate.

.