People All Over the World – Join In! Buy a Rain Chain!
For most homeowners, gutters are an integral part of their home maintenance system. That's because they collect the water that runs off the roof during rain events so as to prevent it from falling directly to the ground below, which can cause a host of problems over time. Similarly, downspouts are an important part of a guttering system because it directs gutter water to a drain, into a rain barrel, or away from the home's foundation.
But some people don't like downspouts because they are unsightly, cumbersome, or noisy. If you're one of these homeowners, there is an alternative which may be more to your liking: rain chains.
What's A Rain Chain, Anyway?
A rain chain is a series of similar objects that are attached by a wire that is hung vertically from a downspout opening. The idea is for runoff water to trickle down the "links" of the rain chain instead of flowing through an enclosed downspout pipe.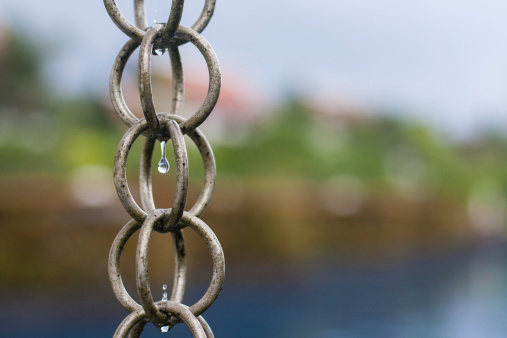 A link-style rain chain.
Rain chains have actually been around for hundreds of years. Japanese individuals have used rain chains (or what they callkusari doi, which means "chain gutter") to help guide roof runoff water into a barrel or other container for household use. This allowed the Japanese to harvest precious rainwater like many cultures have been doing for thousands of years. In fact, Japanese temples are often found with large elaborate and ornate rain chains as part of their overall design.
Rain Chain Styles
Multiple styles of rain chains are used today. The most basic type is the "link" style chains, which resemble a standard link chain hanging from the underside of the home. Another style is the "cup" design, which involves many deep concave objects that catch the water, which is then permitted to drain into the "cup" below it through a small opening in the bottom of each object. The final type, the "funnel" design, operates similarly to cup designs but incorporates objects that are shaped more like traditional funnels. Most rain chains are made from copper or aluminum and are held together by a brass wire.
Based on these three types, a wide variety of attractive styles of rain chains is available. Certainly, some try to resemble the Japanese rain chains of centuries gone by. Others are constructed in more of a typical garden motif with designs such as leaves, flowers, and other flora. Many others aim for more angular pieces like square-shaped cups or diamond funnels. Some rain chains are even shaped like koi, baskets, or watering cans.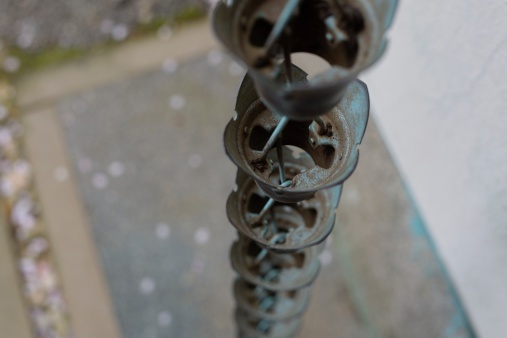 A cup style rain chain.
Why Rain Chains are Preferred
It's easy to see why some homeowners prefer rain chains to generic downspouts. For one thing, it's much easier to choose a rain chain to match your yard decor than it is to work a dull downspout into any type of design. Rain chains are also chosen because of the sounds they generate. While water flowing through a downspout can create an annoying, reverberating noise; a more relaxing "trickle" effect can be achieved using a rain chain.
Most rain chains can easily be supported by traditional gutters and are rarely affected by elements such as ice or wind. Most of the cups or funnels rain chains can adequately handle normal rain events, though there may be some splashing during heavy storms. Finally, rain barrels or drains are recommended in conjunction with rain chains unless the ground slopes steeply away from the home; otherwise, the trickling water will end up deposited near the foundation as it would if there were no rain chain or downspout.
Will You Be the Next Rain Chain Owner?
There are plenty of both brick-and-mortar and online stores where rain chains can be purchased. Just be sure to measure your downspout openings properly and install the rain chains correctly in order to achieve optimum results. To paraphrase the popular O'Jays tune, perhaps you can respond to the musical query "People around the world – join in! Buy a rain chain! (Rain chain!)"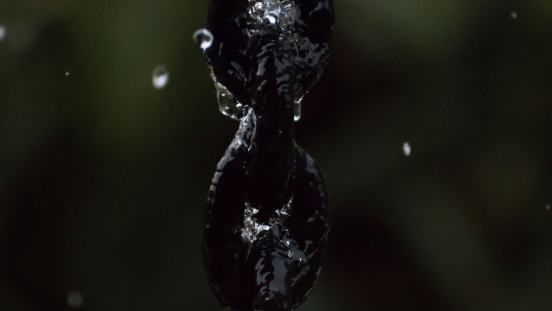 Everybody sing!
 Written by Del Thebaud