Matching Gutters To Roofing Designs
Homeowners are always finding new ways to make the exteriors of their residences a little more unique. Some will construct elaborate landscaping areas. Others will put up an unusual mailbox. And there's always the option of adding decorative lighting, water features, or artistic sculptures to the front yard.
It's also possible to utilize a home's gutters in these efforts, especially if the roof is unorthodox in some way. With the right gutter style matched to the appropriate roof design, the appearance of a home can be enhanced significantly.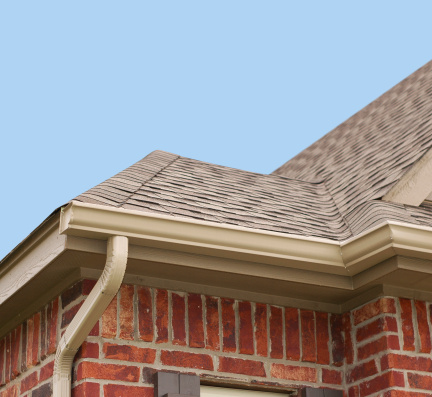 Regular K-style gutters and a shingle roof.
Practical Concerns
Before thinking about the "fashion" aspect of your home's gutters, you must first consider their function. This means making sure that all edges of the roof that require gutters are equipped with them. These gutters need to be attached to areas of the roof where rainwater runs downhill toward the edge. For homes with multi-tiered roofs (like two story or 1 1/2 story houses), gutters may also have to be installed on the rooflines of the upper floors.
If your roof consists of more than four straight sides, chances are that you'll need to make some adjustments when installing gutters. Wherever the roof juts out or bends at an angle, guttering elbow sections will be needed. It's also possible that additional downspouts might be necessary so water doesn't have to be channeled around a roof corner in order to reach a downspout.
Finally, it's important that the size of your guttering reflects the pitch of the roof itself. The more pitch a roof has, the higher the volume of water a gutter must be able to handle at one time. Check with your gutter installer to see if the gutters you want have the proper capacity; otherwise, in a heavy storm, runoff water could fill up the gutters and spill over onto the ground.
Aesthetic Options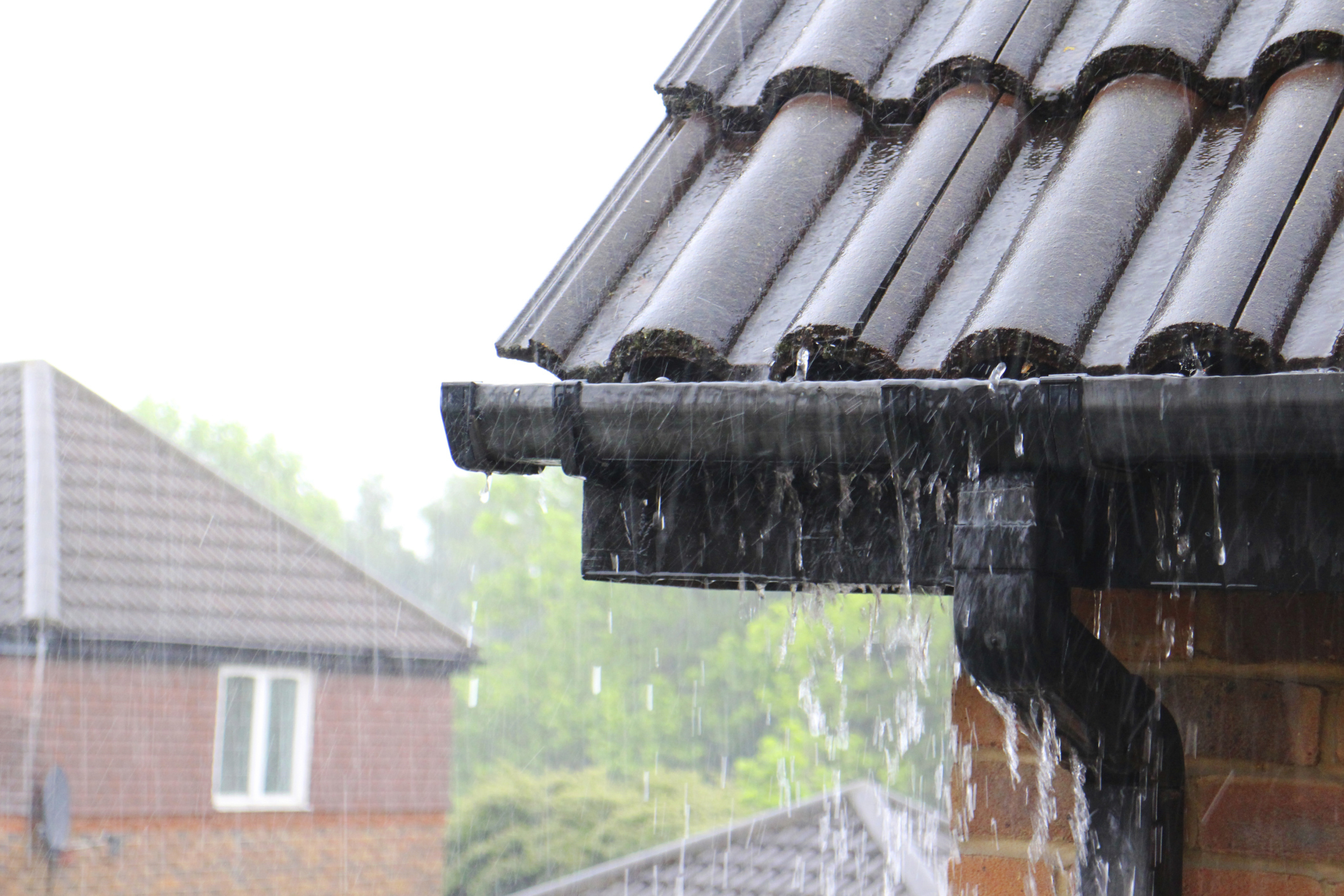 Half-round metal gutters with metal roof.
In most areas, the standard roof-and-gutter material choices are composite shingle roofing to go with aluminum K-style gutters. K-style refers to the shape of the gutters themselves, and the goal is to create a look that resembles interior crown molding. The gutters can be painted in a variety of different colors in order to match or complement either the roof or the exterior paint color. While this combination is incredibly functional and budget-friendly, it adds little to the aesthetics of the home's exterior.
You may want to select a different shape of gutters other than K-style. Half-round gutters, which look like the bottom half of a circle, offer a curvy appearance which might be appropriate for clay tile roofs. Box gutters, which are simply rectangular in shape, may be appropriate for a more refined facade, especially if the roof sits atop a large, stately home.
In addition, you don't have to stick with aluminum for your home's gutters. Copper gutters provide that old-style patina look and work well with roofs made of slate or cedar shakes. Stainless steel gutters are even sturdier than copper and aluminum, and they are a popular choice for homeowners who want box gutters on their residence. It is possible to install wood gutters, but those are extremely rare and only tend to be seen on homes with older wood roofs.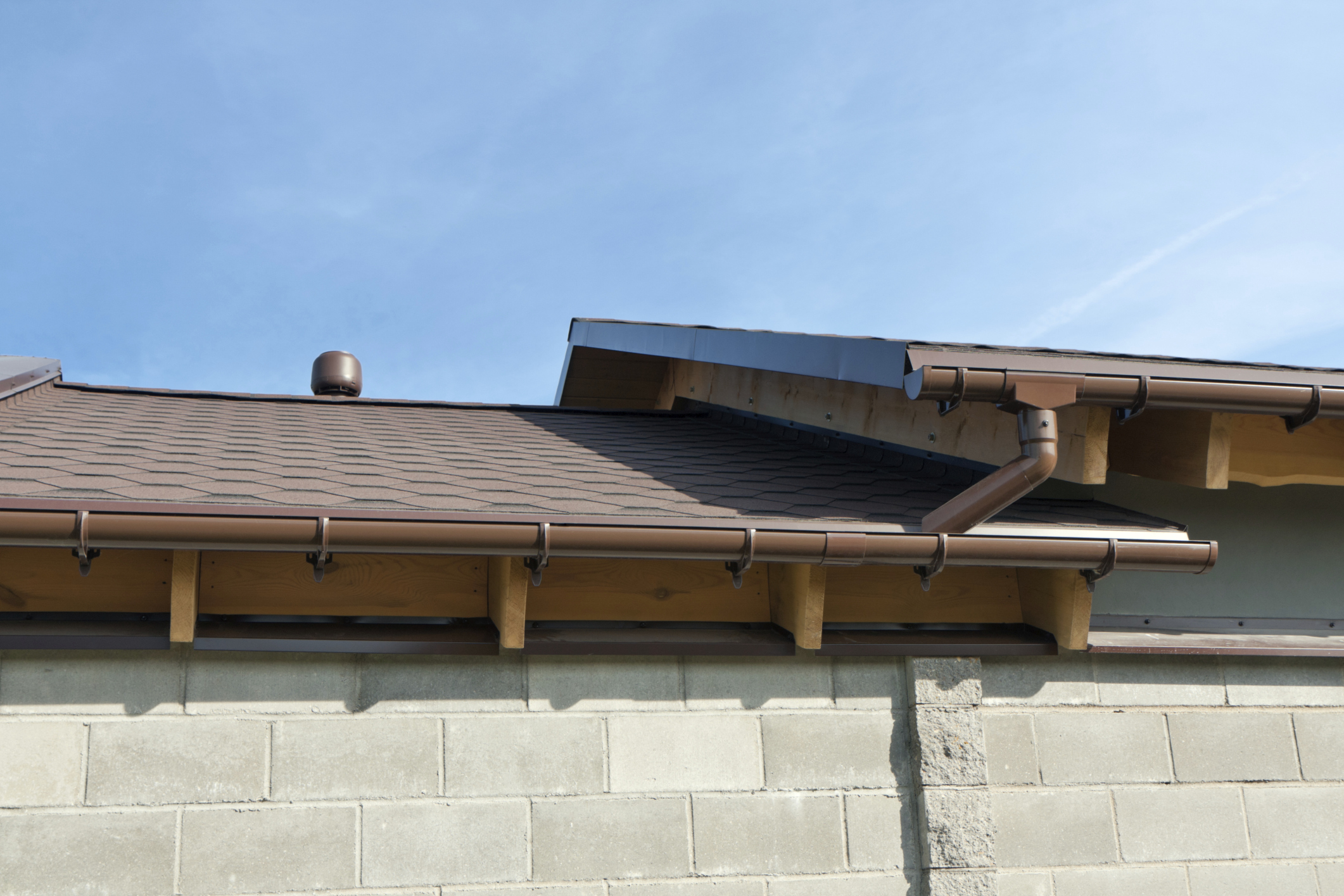 Half-round copper gutters with composite roof.

Tips on Gutter Installation

If you want to boost the curb appeal of your home using non-standard gutters, it is strongly recommended that you consult a contractor who has experience in installing the shape and material type desired. Even the simplest gutters can be harder to hang than they look, and contractors may have access to a wider variety of fasteners and downspouts to accent your gutter choice. So no matter what your current roofing style is, you can probably find a guttering product that will match it perfectly!
Written by Del Thebaud