Are you ready for all the seasons in Salt Lake City? 
Gutter Helmet: Protecting You From the Weather in Salt Lake City. 
Snow and ice can lead to significant problems with your home, including your gutters, roof, your siding, and your foundation. When your gutters veer between being clogged with snow and ice and full of meltwater, problems can start to appear. Gutter Helmet®, America's most trusted patented gutter protection system has your back and can provide you with a range of lifetime solutions.
Gutter Helmet® protects your gutters and the rest of your home. Using a patented nose-forward gutter guard design, it allows water to flow down into the gutter, while leaves and other debris simply slide off the end of the gutter. The water that falls on your home moves swiftly and smoothly into your downspouts. This keeps your gutters clear and clog-free. No clogs, no overflows, and no worries about the damage an overflow can cause.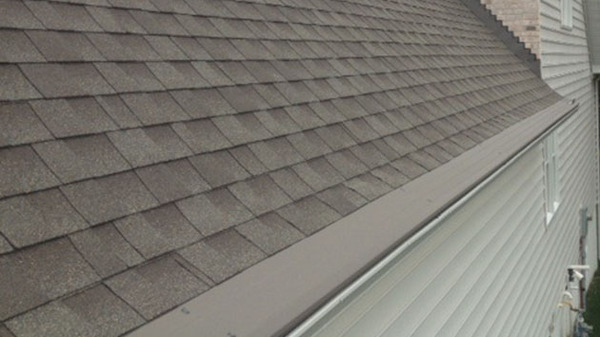 No matter what kind of roof you have, Gutter Helmet can help. 
Helmet Heat: Eliminating Ice Dams in Salt Lake City

At Harry Helmet, we know that winter storms can trouble your gutters as well. While the winter's snowfalls can be beautiful, they can also be a hassle. As snow and ice accumulate on your roof, ice dams can form and loosen your shingles and ultimately lead to leaks. That's why we've developed Helmet Heat, an innovative solution that allows you to get rid of ice dams and icicles for good.
Our gutter heating system gently warms snow and ice, stopping its accumulation. You won't see icicles or snow accumulation close to your gutters.  Water moves easily into your downspouts instead and worries about ice dams and the damage they can cause are eliminated.
A Strong Reputation 
Unlike other gutter filtration products, Gutter Helmet® doesn't require frequent changing, and it won't clog. In fact, you'll never need to climb up a ladder in the rain to clean your gutters. Our gutter system comes with a triple lifetime no-clog warranty. You don't need to worry about installation either because it's professionally installed by gutter experts who have years of experience in gutter installation. No matter what your roof looks like or how much rain you get, Gutter Helmet® can protect your home.
Are you worried about clogged and overflowing gutters? Ease your mind and stop climbing those ladders. Call Gutter Helmet® of Salt Lake City now. We've been protecting the nation's gutters for over 40 years. Count on us to turn your gutter problems into gutter solutions. Contact us to learn more about gutter guards today.