Pretty but Dangerous: Icicles on your Gutters
Even if you've always lived in an area where snow and ice are common in the winter, there's still something a bit magical about seeing glittering icicles hanging down from above you. Icicles hanging from tree branches transform an ordinary tree into something that looks like it belongs in an enchanted forest or outside Santa's North Pole headquarters. But what about when those icicles are hanging from your gutters? They may still look pretty, but they aren't a good sign. Learn what you need to know about what icicles on your gutters really mean.
How Did Icicles Get There?
Icicles are formed when snow melts and refreezes. The melted snow freezes into ice, then the ice blocks more melted snow from draining causing it to refreeze on the existing ice, making the icicle larger and longer. Pretty soon, you have an icicle – and when it's on your gutter, you also have the beginnings of an ice dam forming.
While icicles are pretty, ice dams generally aren't. Ice dams are created with the same kind of thawing and refreezing cycle, but when they stop forming, it means the drainage is blocked to such an extent that the water is freezing in big chunks, stopping the flow of water in your gutter system.
What Makes Icicles Dangerous?
The fact that icicles are a sign of ice dam formation when they appear on your gutters is one of the reasons why they're dangerous. The ice dam that's forming inside your gutters is not only less attractive than the icicle you see in front, but it's also a source of potential home damage. All that ice is heavy. It weighs down your gutters and can cause them to bend or even break. This can also pull material from your roof at the same time.
There are other dangers as well, though. There's a reason why icicles occasionally make an appearance in mystery stories as a murder weapon that conveniently melts away, obscuring the evidence. They can be dangerous if they fall. An icicle that lands on you will hurt – all that ice is heavy – and while icicles are rarely sharp enough to actually penetrate the skin, bruises and even broken bones can be real consequences. An icicle could also fall on your car, causing dents or even breaking a windshield.
What Can I Do About the Icicles?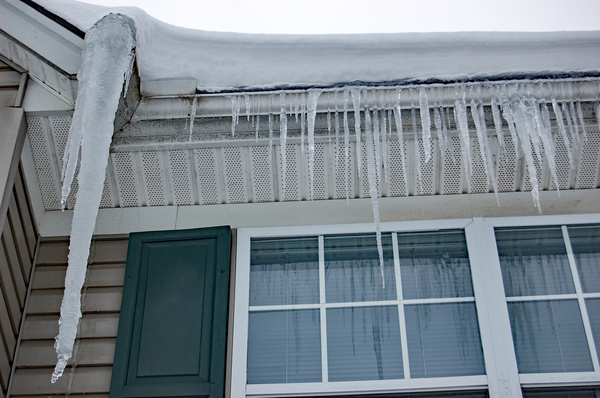 If you notice icicles on your gutters, your first instinct may be to go knock them down yourself – but don't. You never know exactly where falling ice is going to land, so doing this yourself can be dangerous.
Your safest course of action is to hire a gutter service to de-ice and clean the gutters. Gutters that are clear of debris and free of clogs are less likely to form ice dams and icicles in the first place. You may also want to look into solutions for preventing ice buildup and clog formation from the start, such as gutter heaters and gutter guards.
If you want to get your gutters ready for the next cold snap or you need help addressing a gutter problem, Lednor Home solutions offers 30 years of skill and experience with roofs and gutters. They can help you make a great choice for your gutter system and protect your home from common gutter problems. Contact Lednor Home Solutions to Schedule a free estimate