How to Thaw a Frozen Gutter
(Are you looking to eliminate frozen gutters for good with a one-time solution? Learn about how Gutter Helmet can eliminate frozen gutters by keeping your gutters flowing freely.)
North America is still shaking off the effects of the most recent winter. In fact, the 2013-2014 winter season was the third-coldest on record in the U.S. Practically speaking, that meant American homeowners had to deal with winter problems that they weren't used to.
For some, this meant discovering that their gutters had become frozen. When this occurs, there are a few different approaches you can take to address this problem.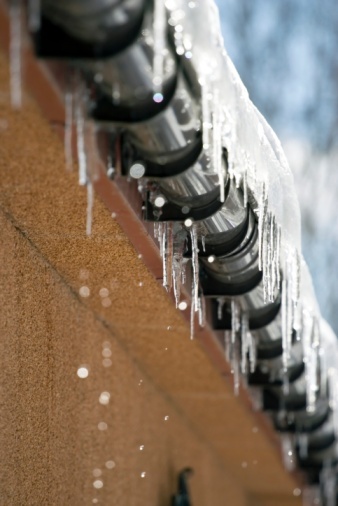 The Wrong Way to Thaw Gutters
For starters, it's prudent to list some of the ways not to thaw iced-over gutters. These include:
Attempting to break up the ice with a hammer (this can dent your gutters or cause them to separate from the roof)
Using a hatchet, axe, or shovel to break up the ice (see #1)
Taking a blowtorch and melting the ice (which could cause a fire)
Possible Solutions for Partially-Iced Gutters
If your home's gutters aren't completely frozen into what resembles a solid block of ice, then there are some measures you can take which could bring you some relief. The simplest one is to take a few handfuls of calcium chloride (NOT rock salt; this can corrode the gutter and cause harm to vegetation when the ice melts) and sprinkle it inside the gutters. Putting some on the edge of the shingles can also inhibit ice dam formation.
A similar but longer-term solution involves using calcium chloride and a either nylon stockings or old pantyhose. Cut away the waist portion and fill each "tube" with calcium chloride, and then tie off the ends to seal them up. Then place each tube either inside your gutters or on the roofline. You can also put one of these stockings over your downspout opening.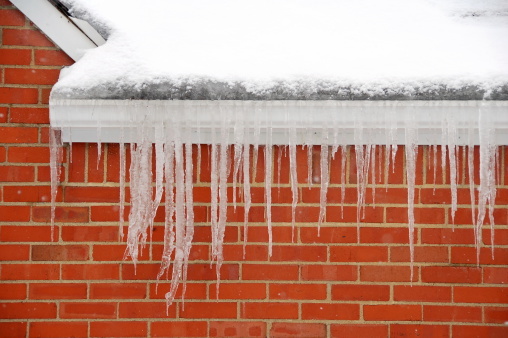 Using Hot Water or Steam to Thaw Icy Gutters
A third method is to use hot water to melt the ice in and on your gutters. But unless you can somehow run a hose from a hot water source, you'll be forced to use pitchers, pots, or similar containers to repeatedly dump the water where it needs to go, which can be cumbersome and time-consuming.
The only sure-fire way to melt the ice in frozen gutters is to hire a professional. Many contractors employ equipment that injects steam and/or hot water into your gutters and through your downspouts to get rid of ice. Though the results are guaranteed, the cost can run you several hundred dollars – and if any residual water stays inside your gutters, it could refreeze.
Stop Icy Gutters Before They Form
As with many things, the most effective way to attack icy gutters is to prevent them from getting iced over in the first place. You can try the "stocking" method in advance of an impending storm and/or freeze. Also, you can clean all debris out of your gutters so it becomes more difficult for ice to establish an infrastructure inside your gutters.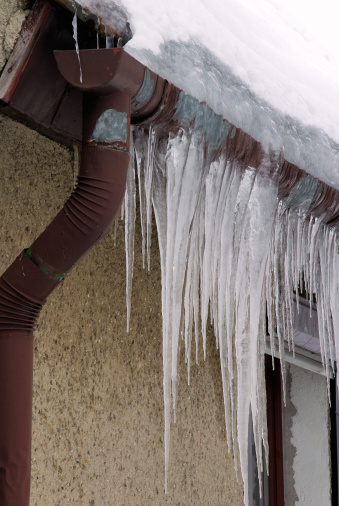 Gutter Helmet with Helmet Heat
You can also enlist Harry Helmet to help you address this problem. Harry Helmet can install Gutter Helmet atop your existing gutters, which helps them stay debris-free so ice cannot latch onto anything inside your gutters. You can also have Helmet Heat installed as well. This is a self-regulating heated cable that warms the gutter cover when the temperature drops below a certain level; thereby allowing surfaces to stay warm enough to prevent ice from forming.
Frozen gutters can be annoying, costly, and even dangerous (if they detach and fall). So as you are making preparations to protect your home from Mother Nature during the winter, don't forget to defend your gutters against the scourge of ice.

Written by Del Thebaud