How to Keep Woodpeckers Away From Your Gutters
Hear that sound?
It's not a jackhammer in the distance, or someone pouring water into your chimney, or a drone landing on your roof. It's a woodpecker, and it is hammering away at your gutters.
Perhaps you were under the impression that woodpeckers only pounded their beaks into trees to get at the bugs underneath the outer layer of bark. It's true that this is one of the main reasons these birds exhibit this curious behavior. But woodpeckers aren't drilling into your gutters in the hopes of finding hidden bugs, termites, or other nourishment sources.
Woodpeckers are Drumming, Not Eating
Instead, woodpeckers are engaging in the practice of what is known as "drumming." These birds do this as a way to either attract a mate or to demonstrate that they are marking their territory. In other words, woodpeckers' drumming accomplishes the same function as the songs or calls that other birds emit. Of course, woodpeckers need a solid surface for their drumming – like a brick, chimney, stucco wall, or aluminum gutter.
As any homeowner who has heard drumming up close can attest, this sound can be heard for a great distance. More often than not, woodpeckers tend to drum in the morning (sometimes quite early) and will often do this at the same time each day.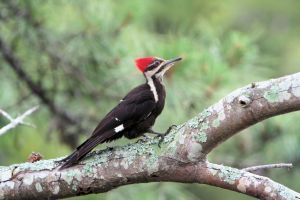 How To Stop the Woodpecker From Drumming
Fascinating as this may be, it's easy to see why this noise can be quite aggravating to people whose gutters are being drummed upon. It's loud enough to wake people from a restful sleep. Over time, the drumming can inflict damage on gutters as well as the rest of the home. If you want to avoid gutter replacement in the long term, it's a good idea to stop the drumming.
If your home has been "designated" to be a drumming spot for woodpeckers, what can you do to stop it?
There are several strategies you can adopt to discourage this woodpecker behavior. Perhaps the easiest one is to erect a suet feeder on your property away from your home. Make sure that the feeder has food throughout the year (excluding summer), and the woodpecker may be drawn to the food and away from your domicile.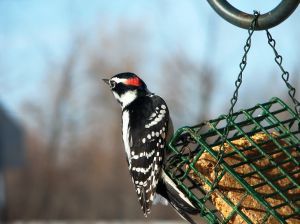 If the woodpecker favors a specific spot on your gutters, you can also take measures to deaden the sound. Placing some type of padding on the opposite side of the gutter from the drumming site can sometimes accomplish this. Use double-stick tape and heavy Styrofoam, cloth, or sound baffling to deaden the reverberation from the drumming. Deadening the sound means that woodpeckers are less likely to damage your gutters, necessitating repairs or gutter replacement.
Scaring Woodpeckers to Avoid Gutter Trouble
If you can't protect your gutters by making them boring, you can make them fearsome to woodpeckers. You can also try visual stimuli that are designed to frighten the woodpeckers away. Often, a plastic owl- or hawk-shaped decoy placed on your roofline may be sufficient. Less expensive options include pinwheel toys or mylar strips (or even mylar balloons) that can be mounted to the roof may cause reflected sunlight to discourage the birds from landing.
Woodpeckers are also sometimes scared away by loud noises. Improvising by banging pots and pans may be enough to banish them after a few days. A high-tech solution would be to purchase a device that emits the sound of a hawk periodically; the idea is to make woodpeckers believe that a predator is lurking near your home.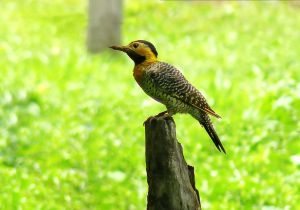 Attracting Woodpeckers to Reduce Gutter Damage
A last resort would be to welcome the woodpeckers onto your roof. This can be done by building nesting boxes that attract woodpeckers into laying eggs. If you are successful in attracting a woodpecker, it will defend its turf from others who might be trying to drum on your gutters.
Although woodpecker drumming can be annoying, it's a problem that can be fixed with a little ingenuity and perseverance. If one method fails to deter the birds, try another until you discover one that is successful. Do your best to refrain from getting angry or frustrated. After all, these woodpeckers are just doing what Mother Nature instinctively instructed them to do – and they probably think humans' mating and territorial rituals are equally weird.
Lednor Home Solutions has been working on gutter replacement for over three decades, and from woodpeckers to wasp nests, we've seen all there is to see when it comes to gutter damage, gutter cleaning, and gutter replacement. Connect with us today with your gutter installation questions.