Gutter Cleaning Can Be a Spiritual Experience
It comes around (at least) twice a year — the time when you know you have to clean your gutters. Depending on your climate and recent precipitation, your gutters could be full of slimy, grimy muck. But you know that unless you want clogged gutters, pools of water on the ground, and possible foundation problems, you have to scrape all of the debris out of your gutters.
Since it's gotta be done, why not make gutter cleaning a spiritual experience?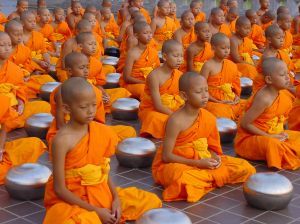 Maybe not quite THAT spiritual, but still…
If you tweak your attitude and adjust your frame of mind, you can actually get something positive out of this thankless chore. Just use the time to get in touch with your spiritual self instead of griping every minute about what you'd rather be doing.
Here are some suggestions on how to turn gutter cleaning into a spiritual experience:
Take a few long, deep breaths before starting the task. This will help to clear your mind of any negative thoughts. Just don't breathe so hard that you're lightheaded as you climb the ladder.
When you reach the top of your ladder, look at the homes and people around you in your neighborhood. Then remind yourself that you are part of a larger community — something that is greater than yourself.
Listen to the sounds of the outdoors — the birds chirping, insects buzzing, and tree limbs swaying. Reflect on how much more vast the planet is than you.
Feel the wind on your face and body. (If it's too strong, climb down immediately.) Let its gentle touch release the part of you that desires inner peace.

You're feeling it now, aren't you?
Tilt your head up and gaze upon the tall trees on and around your property. Marvel at how long they have been on this earth. But also remember that time passes more quickly than you expect — so you shouldn't waste a single day of it.
Fix your eyes on the debris inside your gutters. Leaves, pine needles, twigs, dirt… all of them naturally-created building blocks of this wonderful planet we call earth.
Perhaps there is water (or snow or ice melt) sitting in your gutters as well. Think about the miracle of precipitation and how it nourishes all living things around us.
Use this opportunity to figure out how to contribute to the life cycle of the earth. Collect the wet leaves in your gutters and start a compost pile. If you find plant or tree seeds, gather them and replant them in your yard or somewhere nearby.
Once you have cleaned out your gutters, run water from a hose to make sure it comes out your downspouts. While doing so, listen to the trickling sound and let it heal your soul.
Finally, when you descend the ladder to stand once again on terra firma, thank your (higher power of choice) for keeping you safe and injury-free during this potentially dangerous task.
Finish by saying, "Amen," "Namaste," "Cool runnings," or some other spiritually-appropriate closing utterance.
There. See? A cumbersome job is done, and your soul is at peace. Almost makes you want to do it all again next weekend, right?

She just cleaned her gutters. Can you tell?