How Much Does It Cost to Replace Gutters in St. Louis, MO?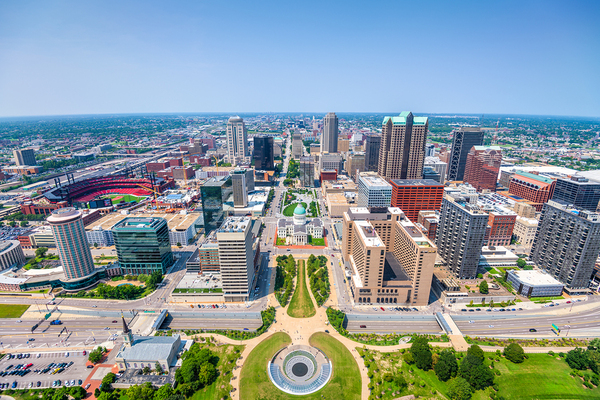 In St. Louis, gutters run from $3.46 to $25.99 per linear foot. The cost of labor in St. Louis is 16% more expensive than the national average.
Are you ready to get some new gutters? If your gutters are warped, leaking, or getting clogged regularly, it is probably time to replace them. Damaged gutters are not only unsightly, but they can also lead to damage to your landscaping and foundation as water pours out of the gutters and onto the ground. Give your home an upgrade by adding new gutters today.
Factors That Affect Cost
Gutter costs can be quite different depending on your specific home. Why do they vary so much? Here are a few factors that will change the cost of your project:
Materials form a large portion of the cost. The more expensive the materials, the more expensive the project.
The style and complexity of your roof factor in as well. How many ridges are there? How many downspouts? A more complex roof will cost more.
The number of levels in your home is a factor. The more climbing around that the installers need to do, the higher the price.
The cost of labor varies. The amount that your contractor pays employees will influence the installation costs.
Choosing Your Gutter Materials
Different gutter materials wear differently and also have a different look. They are also at different price points. The cost of gutter materials varies a lot, and the materials cost will be a substantial part of your project. What do gutter costs look like in St. Louis?

 Installation Costs
Installation costs will also vary, and you need to make sure that you understand the full scope of different costs. These can include:
The cost of labor. A 50-foot section could cost about $2,200 to complete. However, this depends on the number of levels and the complexity and pitch of the roof. The St. Louis market tends to be above average when it comes to labor, so add in up to 16 percent on top of national average labor costs.
Gutter drainage design. This can cost up to $160.
Disposal of the gutters. Add another $100 here.
The cost of other materials will also add to your total cost. These include:
The cost of downspouts, which can run between $5 to $7 for aluminum, $9.50 to $10 for steel, and $5 to $8 for vinyl.
Splash blocks are often around $11 each.
Hangers depend on the type of gutter you get, and the number of hangers you need will vary according to the materials used in the rest of your gutter project. Hanger hardware runs between a few dollars to hundreds of dollars, depending on the type of brackets you use.
Roof flashing costs between $10 and $20 for a 10-foot area.
Questions to Ask Your Gutter Contractor
Asking the right questions will yield the answers that you need to truly understand your gutter costs and the contractor you have chosen. When you are getting an estimate, ask your gutter contractor:
Does the company specialize in gutter repair and replacement?  This will give you a sense of their history and experience.
Are estimates free?
What warranties do they have on both materials and installation?
Are they licensed and bonded?
What does the quote include? Does the quote include the dismantling and removal of the old gutters and the removal and disposal of debris?
At Lednor Home Solutions,  we want to make sure that you have the professional gutter installation process that you deserve. Learn more about our decades of experience working with homeowners across the country. Talk with us about how you can work with Lednor Home Solutions on your new gutter replacement project. Schedule a free estimate today.