7 Creative Uses of Gutters, Roofs for Holiday Decorating
Roofs and gutters are more than just a channeling infrastructure for runoff rainwater and snowmelt. They are also a "canvas" of sorts for the creativity of holiday decorators. With Christmas lights, holiday accessories, electricity, and some imagination, any homeowner can turn his or her domicile into a yuletide work of art using only his gutters and roofs. Here are seven of the most unique displays.
If you don't like putting Christmas lights on your roof, you can still make your house look beautiful: simply string lights along your front gutters. There are many different types of light clips that secure lights to your gutters firmly and easily. This house portrays a festive-yet-understated look with lights attached only to its guttering.
2. Of course, you can use your gutters to depict an entirely different vibe. Imagine if Santa Claus landed on your roof but lost his balance on a patch of ice; then slid all the way down your roof before grabbing onto your gutter as a last resort. This is actually a decoration you can purchase that clips onto your gutters — and it's guaranteed to make your neighbors do a double-take.
3. But you don't have to use Santa to achieve the same effect. This blog post from 2005 shows how a man dressed up a mannequin and affixed it to the lower part of his roof, so that it looks like a man clinging to a gutter for his life after trying to hang Christmas decorations. Do you think it looked real enough for passersby to call police to help him?
4.
This house in East Hampton, New York combines the traditional and the artistic with its rooftop Christmas lights. While Santa and his eight reindeer perch atop the peak, the multicolored strands of lights depict a series of curves on the roof slope — even though all of the light strands themselves are laid in straight lines. (Look closely and see for yourself.)
5.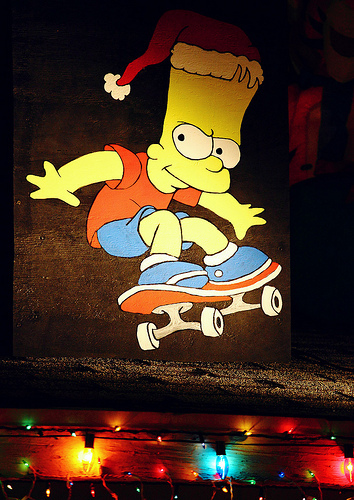 Don't have a cow, Santa! It's unclear whether the "Simpsons" live in this house, but the owner certainly likes the long-running animated TV series. These are two illustrations that stand just above the roofline: one of a Christmas-hatted Bart on his skateboard, and the other of Snowball the cat in festive accoutrements.
6. This house in Phoenix is a bit of a mystery. Depending on how much credit you want to give the homeowner, this is either: a) a simplistic depiction of a snow-child yanking on Scooby Doo's leash near a tiny Christmas tree, or b) a lazy, haphazard display of whatever happened to be in the home's attic at the time.
7.
This video might win "Best in Show" for rooftop Christmas lights this year. Like many holiday home displays, this one is designed to flicker and change with audio. But instead of music, this is the radio play-by-play of Indiana University's game-winning shot to upset top-ranked Kentucky in last year's college basketball game between the Hoosiers and the Wildcats. Enjoy (unless you're a Kentucky grad!)
Photo credits: homeconstructionimprovement.com, americansale.com, acrosstheboard.blogspot.com,iloveeasthampton.blogspot.com, cobalt123, uglyhousephotos.com/wordpress.